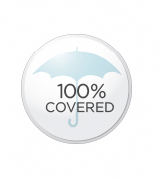 Try Art Risk Free in Your Home!

We understand that buying original artwork can sometimes be a difficult and intimidating experience. Because of this, every work of art you buy on Zatista is covered by our 100% Buyer Protection Guarantee.
If for any reason you don't like the work of art you purchase, you can return it no questions asked - and we'll even pay the return shipping*!
Our Buyer Protection Guarantee along with all of our fantastic tools like the "Zoom" and "See In A Room" features should give you total confidence when purchasing art from Zatista. What you see is what you'll get and in fact, buyers on Zatista repeatedly tell us that when they receive a work they have purchased, they are even more impressed seeing it in person than when they first saw the work on Zatista.
With free*, no-hassle returns, it's time to treat yourself to an amazing, original, one-of-a-kind work of art from Zatista!

100% Buyer Protection Guarantee details:
You have a full week (seven days) from the time you receive an item to decide if you would like to return it. No questions, no hassles.
In the event you decide to return the item, you simply notify Zatista and we will assist you with all aspects of the return.
Upon processing your return, we will issue a full refund for your purchase.
Free Returns: If you decide to return an item, we'll pay the cost of return shipping*.
Free Returns details:
Zatista will pay for the cost to return your purchase to the seller up to a maximum of $100.00 USD. You will be responsible for return shipping costs over $100.00.
All free return requests will be reviewed and subject to approval by Zatista.
Free returns are not available for items damaged in shipment. (These will be handled with the shipping carrier as an insurance claim).
Items must be returned via a trackable and insured shipping carrier and the tracking information must be provided to Zatista.
MORE REASONS TO FEEL COMFORTABLE BUYING ON ZATISTA:

Quality Artists

All artists have been carefully screened to meet the high standards we have set on Zatista.

Certificate of Authenticity

Every work you purchase comes with a hand signed certificate of authenticity.

Top-Notch Customer Service

We are committed to making sure every customer on Zatista is completely satisfied.