The Fall season is here, which brings cooler weather outside and vibrantly colored leaves on the trees. 
Artists have long worked to capture the magic of Autumn – the change in the air, the fleeting colors, the warm palettes, and the shorter days.
All of the beautiful shades and landscape scenes in the fall make for some amazing inspiration. This roundup of art will have you ready for Fall with open arms.
"As long as autumn lasts, I shall not have hands, canvas and colors enough to paint the beautiful things I see."

– Vincent Van Gogh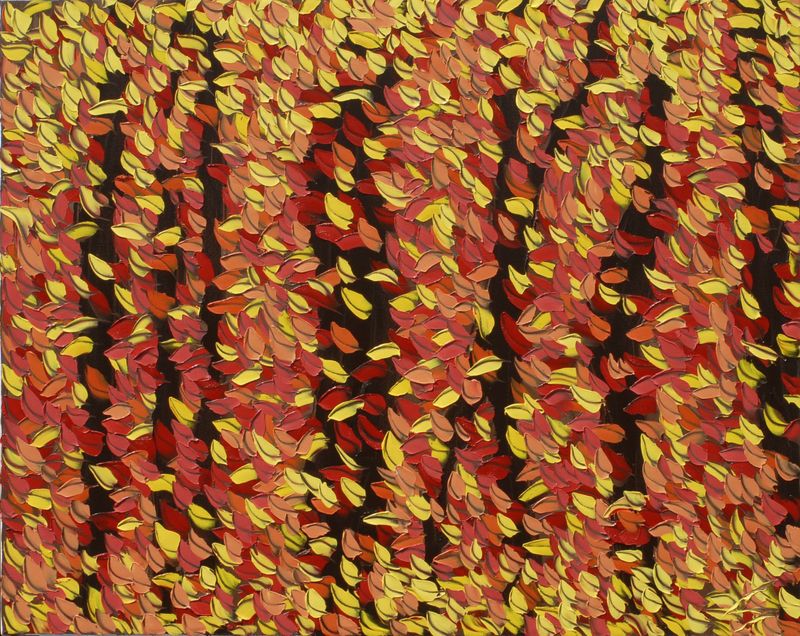 Last Fall by Bill Stone
Painting, Oil on Canvas
A word from the artist: 
"Last fall was the most brilliant of all. Thick, vibrant, oils on canvas influenced by the color, movement and texture found in the natural world around us."

View this work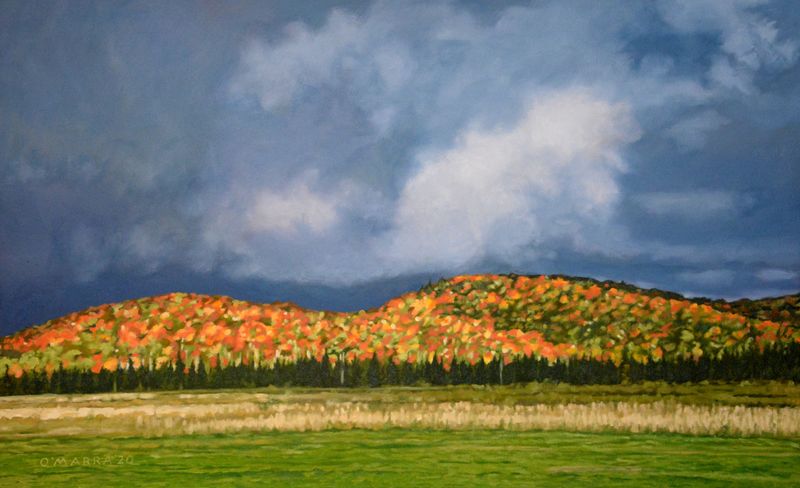 Fall Colour by Maxwell Settlement
Painting, Oil on Canvas
A word from the artist: 
"To celebrate the superlative autumn colours in rural Ontario this year, I completed this painting of the field and hills and sky behind my retreat/art studio near Bancroft."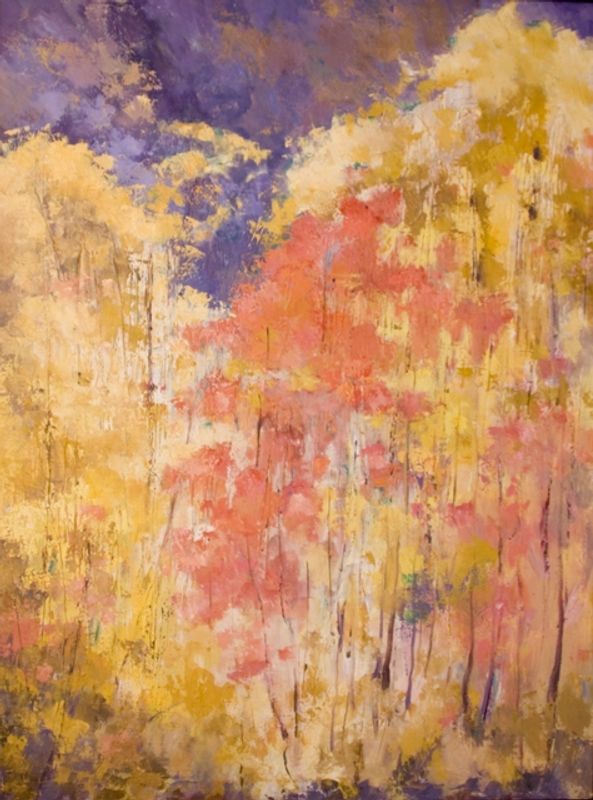 Fall's Palette by Kit Hevron Mahoney
Painting, Oil on Canvas
A word from the artist: 
"This is a more abstracted fall scene inspired by our amazing fall colors in the high country here in Colorado. It is fun to explore different ways of expressing myself with paint and canvas. This painting was done mostly in palette knife."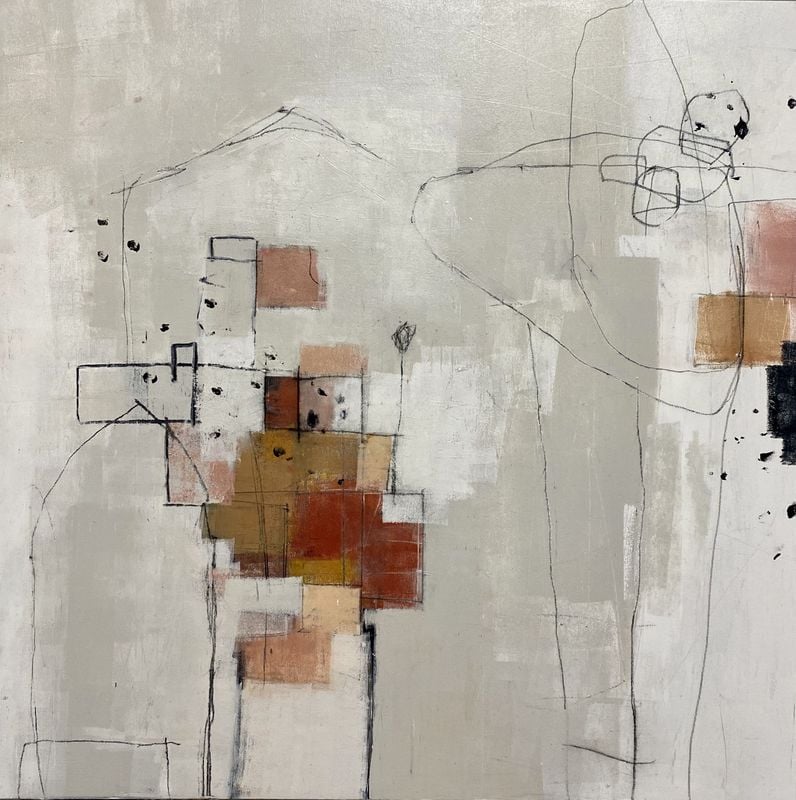 Fall to Winter by Shellie Garber
Painting, Acrylic on Canvas
A word from the artist:
"Minimalist, abstract landscape painting. This painting has a soothing, meditative feeling with its expansive white and gray space and focal pop of color."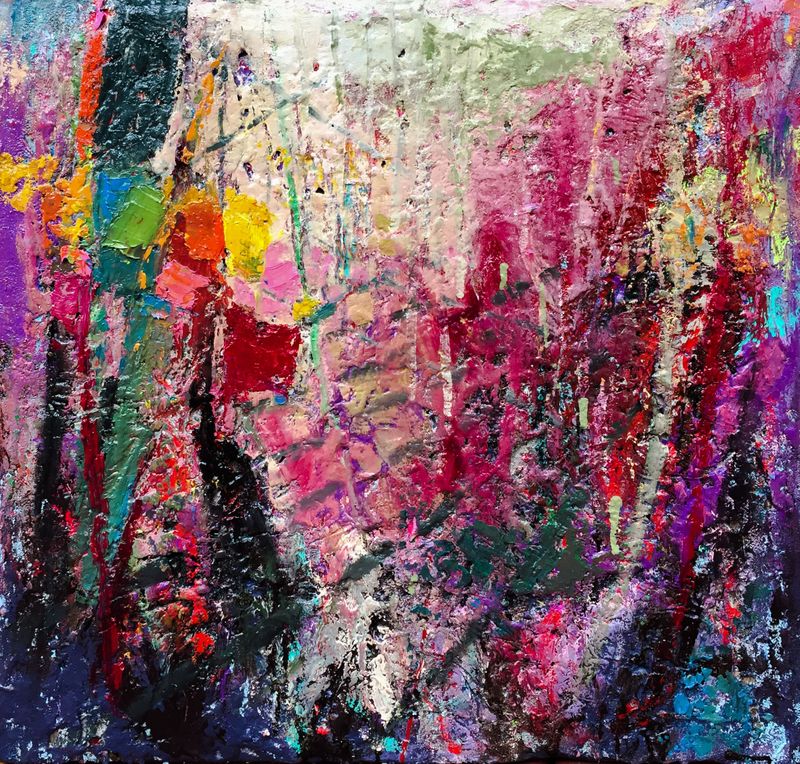 Fall Feelings Erosion by Cheryl Johnson
Painting, Oil on Cloth
A word from the artist: 
"Fall in the Carolinas and creative inspiration is everywhere. Everyone is out walking and the air is crisp. This work is an experiment in texture. Using Erosion Cloth covered with grout, and then painted with fat over lean principles of latex and acrylic underpainting and completed with oils using palette knife and brush "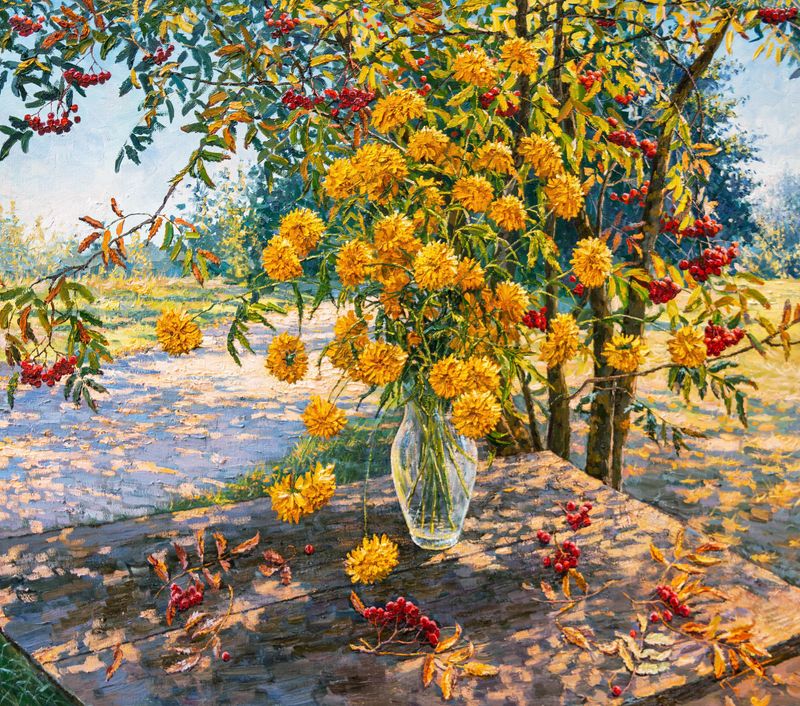 Autumn Still Life by Elena Barkhatkova
Painting, Oil on Canvas
A word from the artist: 
"Elena depicts the world that surrounds her in everyday life: her and her husband's house, garden, fields around it, the flowers and the trees that she herself looks after. The birds and the animals, all the inhabitants of her own cosmos are under her protection and care, and it may be said that the painter Elena Barkhatkova is the creator of both her paintings and the reality they depict. "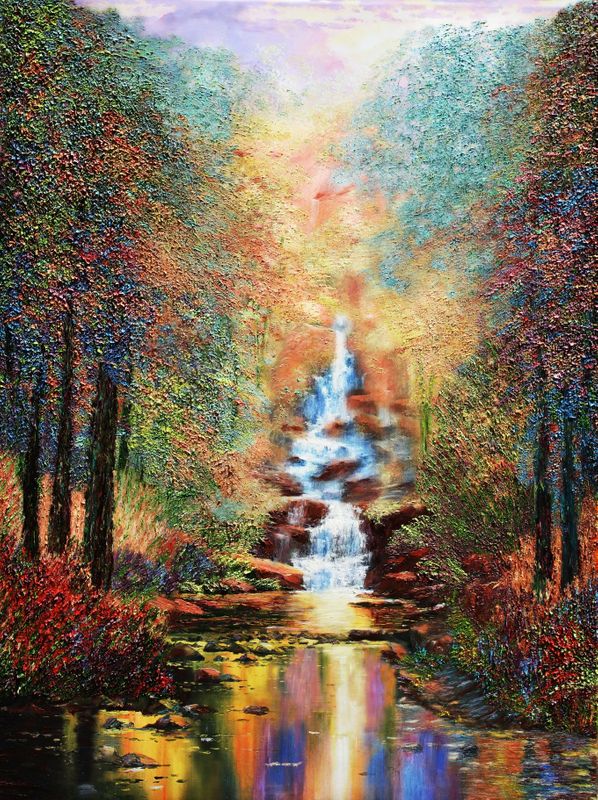 Enchanted Falls by Kenneth Halvorsen
Painting, Oil on Canvas
A word from the artist:
"Dense with information but still retaining natural beauty this oil on canvas creates a thoughtful contrast between movement and stillness. Ideal for those who relish in moments of contemplation. The painting is executed in Clear Impressionism style in thick oils with bright colors, fluid motion and thick texture. "
—
Looking to build your art collection this Autumn? Our Fall sale is on now, from September 22-29th. Discover art you'll love and save with promo code FallArt15.